You're invited to enjoy a special monthly no-charge treat!
The Family Minute™ E-zine
& Every Kid a Winner™ E-zine

Sign up here:
Soon you'll receive your first information-packed issue. What can you expect?

Content-rich features vary but often include some that
are also on this website, but with different material:
Through this site and free monthly E-zine you'll discover: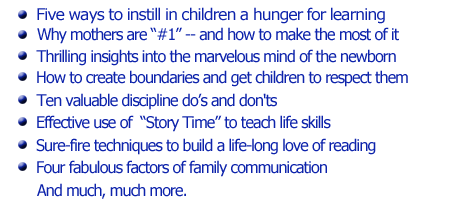 Other typical topics in The Family Minute™ E-zine:

| | |
| --- | --- |
| • | Grandparents Know Best |
| • | Nutrition of Children |
| • | Learning from Role Models in Books |
| • | The Positive Power of Play |
| • | Ask the Specialists |
| • | Fun From the Internet |
You'll find these features frequently, although we'll occasionally substitute topics, guest columns, and introduce new writers.

To enrich our subscribers and their families, we have a…
monthly book give-away! You may be a winner!
Every month The Family Minute E-zine will feature
books we feel will benefit families.
In addition to reviewing the books, we'll give away ten copies of
EACH FEATURED BOOK.
One subscriber will get
A book package worth $150.00!
It includes signed copies of each book I've written or coauthored
Your name will be in the drawings every month unless you opt out.
WHY ARE WE GIVING SO MUCH AWAY?
Because we're dead serious about wanting to benefit children and families --and these are books that will make a difference. Occasionally we'll include one of our titles in the review/give-away. We know this is one of best ways you can experience the exceptional worth of our beautiful, award-winning children's books and novels. And you'll tell others. We sincerely hope we'll get to share good things for families with you for a long time to come.

Note: Is there a book you'd like us to feature in the E-zine--one that's been especially helpful to you or your family? Click the "Contact Us" button and tell us all about it.
Make this your magazine! We want this to be an electronic magazine that will be interesting to you and will provide a wealth of suggestions, ideas, and put-to-work-now concepts. We will be happy to have feedback from you as to how we can make it better. Click the "Contact Us" button and send an email or write us at the address shown.
Truly yours for the strengthening of families,


P.S. Don't miss a single issue! Go to the top of the page and sign up today!